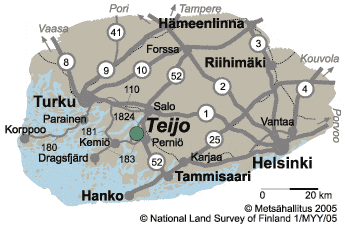 Teijo National Park is located in the municipality of Perniö, about 20 km from the town of Salo, 70 km from Turku, 140 km from Helsinki and 200 km from Tampere, in Southwest Finland region.
The park was established on January 1 2015 and covers an area of 34 square kilometers.
In the National Park, there is one eutrophic fen, which is a type of mire that has almost disappeared in southern Finland. The forests are mainly young managed pine forests.
The park is also home for several species of freshwater fish, nesting birds including goose, cranes, sandpipers and grouse; and mammals such as moose and deer.
There are approximately 50 kilometers of marked trails in the park, including 3 kilometers of trails for physically disabled persons.
There are historical industrial areas, including a former iron works area in Kirjakkala. The iron works contain many log houses from the 1800s which have been renovated to their original state.
Teijo is a family destination with something to offer for everyone.
How to Get There?
By Car
To get to Teijo National Park, drive on the road 1824 which goes along the coast from the town of Salo to the municipality of Kemiö. There are signs from this road to Kirjakkala iron works village and to Lake Matildanjärvi.
You can also get to Teijo on the road 52 (Tammisaari – Salo) by turning at the village of Perniö and following the signs to Mathildedal.
The other route from the road 52 (Tammisaari – Salo) turns west after the village of Perniö at Sauru (at the sign Teijo 10 km) towards Teijo on the road 1825. This road goes through the National Park to Salo – Kemiö road.
By Public Transport
Find Taxi • Find Railway station • Find Airport
Customer Service and Guidance
The area is open every day 24/7. Customer service differ from that.
Matildanjärventie 84, 25660 Mathildedal (Salo), Finland.
Customer Service, Metsähallitus: rannikko@metsa.fi, tel. +358 206 39 4700 (Mon-Fri 10-15)
Rowing boats, kayaks, SUP-boards, wilderness cabins, Tentsile accommodation, sauna, fishing permits and sites for campervans can be booked from the Teijo Nature Centre.
Please read instructions and rules in Teijo National Park before visiting.
You can leave your photos and review at the bottom of this page!  Enjoy your visit!